What is LASA Anyway?

General L. Pictured with Astronaut Buzz Aldrin in Pasadena Ca., May 2000.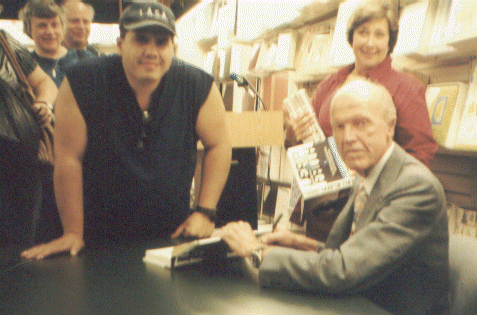 General L. Pictured with Astronaut Gordon Cooper in Pasadena Ca., July 2000.

LASA began in 1981 at Franklin High School in Los Angeles CA. Three friends, filled with Ideas decided to begin an independent rocket society. Its founders were:
General L.- Its Chief Designer
Luis Alvarez- Assistant Engineer, Transportation Chair.
Henry Jung- Financial supporter
As its first mission, LASA decided to build a rocket system totally unique, totally crazy, totally ridiculous; leading to the design of the Alpha 1. The Alpha 1 was a General L. design, resembling the Space Shuttle. On its maiden flight, it flew a WHOPPING 30 feet, to be retired soon afterwards.
The next mission was to design a two stage rocket system, which led to the Beta 1. The Beta 1 debuted in early 1982. LASA came to a sudden halt in June of 1982, due to a lack of funds, and went into hibernation for the next 14 years.
In the summer of 1995, Chief designer L. got the opportunity to learn rocketry techniques from Capt. Chito Perong, and Capt. Dewey Parker of the United States Air Force Academy. After receiving his initial training, LASA once again ruled the skies.
From that summer came two rocket legends, the LASA X1, and the LASA X2. The X1 had 4 successful flights before crash landing near Victory Park in Pasadena CA. The LASA X2, on the other hand, is still going strong, even after 12+ successful flights.
Now the LASA fleet consists of 11 rockets, including the Shuttle Atlantis, as well as the Mercury Atlas and the Big Brute. By the end of 2001, LASA will increase to a number of 12 functioning Rockets, including the massive supernova, being redesigned at Pasadena's CalTech.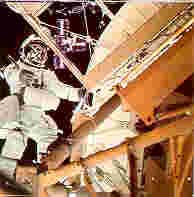 LASA Mission Specialist working
on the Spacestation
Present Goals of LASA:

The present goals of LASA include
1. Promoting Rocketry among youth everywhere
2. Building a better and unique model rocket
3. Competing in future rocket competitions
4. Having fun at a fantastic hobby!


---
The Space Command Motley Crue 1999; Col Springs Co.
The History of LASA Station
In the fall of 1997, using a small budget and a great deal of brainpower and imagination, LASA Station was born. LASA Station is an orbiting functional, privately funded Spacestation. The purpose of LASA Station is to promote the Space Sciences, and the concept of "Space Tourism", the new vacation spot of the 21st century. LASA astronauts take space tourists, via Delta Clippers and X-33's to the Station, and the guests stay for periods of 5, 10, 20 days, depending on the fitness and budgetary restrictions of the each tourist. There are plenty of activities here at the Station, including space sports such as 0g soccer, 0g football, 0g basketball, 0g WCW Wrestling, and other sports starting weekly. In addition, music artists such as KISS, Flock of Seagulls, Judas Priest, and the Bay City Rollers, and The Backstreet Boys have performed here at the LASA civic arena. For more info please call our public relations office at 1-800-see-lasa.
Important Space Websites
Mars Pathfinder Instrument Descriptions
Explains what instrumentation can be found of the Mars Pathfinder Spacecraft
Mars Pathfinder Instrument Descriptions
Explains what instrumentation can be found on the Mars Pathfinder Spacecraft
Mars Pathfinder Instrument Descriptions

Part 3 of the instrumentation used on Pathfinder
Mars Pathfinder Fact Sheet
Mars Pathfinder Fact Sheet
Mars Pathfinder Fact Sheet
Mars Pathfinder - Atmospheric Structure Instrument
Mars Pathfinder - Welcome to Mars!
Quest: NASA K-12 Internet Initiative
this is a great website for looking at the landing sites of pathfinder
US Air Force Academy Home Page
NASA Spacelink
Cool NASA Site of the Week
NASA Shuttle Web
NASA K-12 Initiative
ISSA Bulletin
NASA/Kennedy Space Center
Smithsonian Institution
---
Model Rocket Sites
National Association of Model Rocketry
NAR Online Catalog
Atlantic Rockets Online Catalog
Rocketry Online
Apogee Rockets Catalog
Boyce Aerospace Catalog

---

Disclaimer: LASA® and LASA Station® are not affiliated with NASA or any other space agency, aerospace contractor, school, association, anyone, or anything. Any use of the LASA name without prior permission will lead to immediate prosecution by LASA lawyers.
Copyright © 1997-2001. LASA®Inc.,
Revised April 20, 2001